Cleanliness Is Still King For Property Managers
Ever thought about using a cleaning equipment fleet management program?  Studies continue to show that cleanliness is the most important factor in your vacation renter's experience.  Their happiness, their loyalty, and their willingness to refer others to you is directly tied to how well your housekeeping staff performs.  Maintenance and housekeeping managers have the daunting task of maintaining the orderliness and cleanliness of hundreds of properties and thousands of square feet.  You obviously can't do it with broken equipment.
For housekeeping staff, readily available and functioning equipment (coupled with ample supplies) is vital to your success.  In fact, the lack thereof will frustrate your staff and likely undermine your renter's vacation experience.  You've undoubtedly had to work around broken equipment in the past.  Perhaps you've had to shuffle vacuum cleaners between units in order to get them cleaned.  It's a popular quick-fix and we've all done it.  The problem is that it's a waste of money and manpower, and it really irks your homeowner especially when they're not returned to the correct property.  Perhaps one of your maintenance people can repair it?  Sure , if they have the parts and know-how.  Lacking either is a further drain on manpower.  And replacing broken vacuums with cheap Walmart versions further exacerbates maintenance and repair issues.
You should also know that equipment that functions sub-optimally is likely doing more harm than good to your homeowner's floors.  Vacuuming surface dirt only degrades the carpet pile.  Clogged filters actually spread dust and debris.  Hair, oils, and other organic matter imbed deeper and deeper into carpets and rugs.  Un-vacuumed mite feces serves as a food source to attract even more mites resulting in an unending cycle.
The bottom line is that vacuum cleaners are rarely "top-of-mind" to most maintenance and housekeeping managers.  Until they malfunction, that is.  Then, a broken piece of equipment can be a serious barrier to fully serving your client properties.
Property Managers Are Looking For Inovative Solutions
Fiddling around with vacuum cleaners and carpet extractors is not the job of today's professional maintenance or housekeeping manager.  Many managers are looking for cost effective ways to outsource equipment maintenance… Programs that cover supplies, preventative maintenance, and repair work.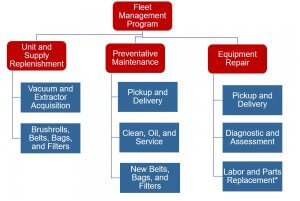 Specifically, they're looking for programs that focus on equipment reliance, availability, longevity, and affordability.  But they have to have other emphasis as well:
Simplicity – The program needs to eliminate the need to deal with vacuum maintenance, repairs, supply orders, and other multi-vendor hassles.
Commonality – The program needs to aid in transitioning to common platforms, machines, and supplies to increase efficiency and economies of scale.
Standardization – The program needs to routinize the process of cycling equipment through health-checks, maintenance and repair procedures.
Transparency and Insight – The program needs to provide visibility, objective analysis, hardening, and training on your machines' operability, longevity, and proper use.
Lower Risk – The program needs to mitigate the risk of being blind-sided by malfunctioning machines.
Financial Predictability – The program needs to replace unexpected repair costs, and machine outages and replacements with a consistent and manageable rate.
Locality – The program needs to be from a LOCAL resource, attentive in the way that only a local neighbor can.
Programs of this nature seek to lower Property Manager's costs and hassles surrounding vacuum and extractor acquisition, maintenance, and repair.
Make Sure Your Equipment Is Always Ready
The Vacuum Center of North Myrtle Beach (click here) has a program to keep your equipment in tip-top shape… Our Fleet Management Program.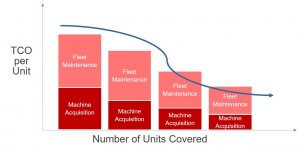 The intent of the program is to 1) provide 'cradle to grave' support for your floorcare fleet, and 2) leverage the Vacuum Center's technical expertise and buying power to lower your total cost of ownership (TCO).  The program features several key benefits:
Free pick-up and delivery
No repair bills
No maintenance bills
No cost for bags, belts, filters or brushrolls
Predictable cashflow
No more machine outages or overly time consuming repairs
Folding more equipment into the program makes maintenance and repair processes become fluid, routine and un-eventful… effectively continuing to lower costs through economies of scale, as well as, increasing the health and longevity of your equipment.  Needless to say this also assuages your headaches surrounding machine outages.
How Does It Work
Comparisons of 3 example vacuum models in the program demonstrate that, based on similar maintenance patterns, the per unit TCO is close to or less than an outright purchase.  Bottom Line Comparison of Example Vacuums… You save a lot of money – AND – never have to worry about malfunctioning vacuums.  Watch this informative video for more information.
Why use the Vacuum Center of North Myrtle Beach
We're Experienced – We market, sell and service the widest selection of commercial vacuum cleaners on the Grand Strand… we handle several models from major manufacturers like Sanitaire, Hoover, CarpetPro, Royal, ProTeam, Powr Flite, and others.
We're Proven – A+ rated BBB accredited business for over 33 years, over 21K machines sold, over 146K customers served, 30 year member of Vacuum Dealers Trade Assoc.
We're Ready – We're a certified dealer for over 20 manufacturers, inventory over a hundred machines for sale, and stock supplies and parts for literally thousands of makes and models
We're Local And Online – We maintain a storefront location and repair shop in North Myrtle Beach as well as a robust ecommerce site for online purchases and interactions